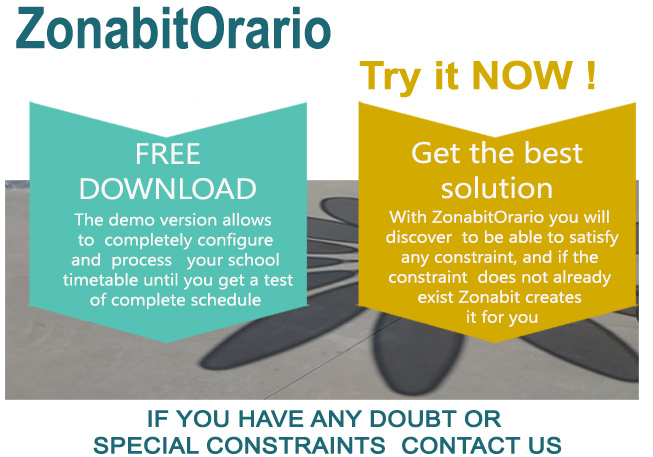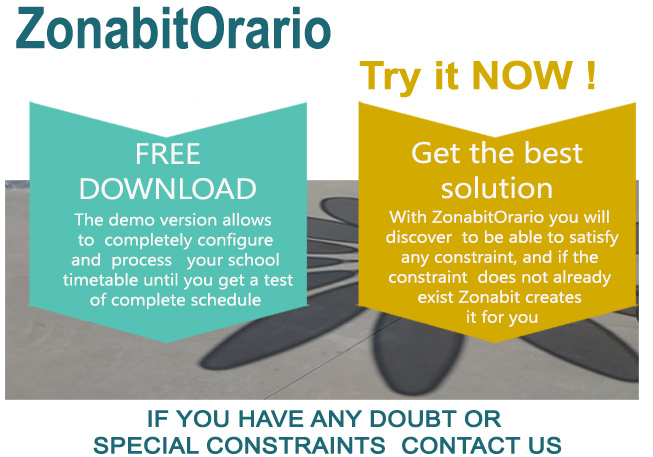 ZonabitOrario free software allows you to configure completely and to process your school timetable to obtain an example of complete and definitive timetable. This version contains also some schedules already set up that contain examples of all the available constraints, and can help you while setting up your data.
During the elaboration you can verify that ZonabitOrario is able to solve also the more complex constraints. In order to obtain reports and HTML pages, you should buy the complete version. Of course, when you have decided to buy the programme, you can use again all the introduced data, without the necessity of shaping again the teachers, the desks and the constraints data. The free software allows to you to try the management of the substitutions concerning the pre-compiled scheduled.

FREE TRIAL: IT'S EASY!

You can try ZonabitOrario with a minimum waste of time: ZonabitOrario can import automatically your data from files produced by other software. So, if you have any file that contains the data of your school (database of other programs for schedule, excel, word etc), you can write us and ask for loading your data.


How to install

To install the software unzip the file and save it.
Or you can also download directly the EXE version, if your antivirus permits it.
To execute ZonabitOrario, double click the file .EXE
To install on MAC or Linux follow our tutorial.
No risk for those who buy ZonabitOrario: right of withdrawal in the first 30 days! Orders are easy and fast, directly from the web!

REAL assistance all over the year: all your emails will be answered within few hours. If there are configuration problems, you shall send us your data base through a very simple procedure: within a few hours we will return it corrected.
Una realizzazione Zonabit Sistemi s.r.l. (p.iva 09298161002) Tutti i diritti riservati. (c) 2005-2022